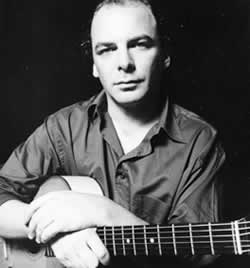 The first experience of guitarist and singer Maurizio Geri was related to the revival of the folk tradition from the Pistoia Apennines. In the early Eighties, during the "Cantar Maggio" festival, organized by the Town Council of San Marcello Pistoiese, Maurizio had the opportunity to meet three musicians who would decidedly mark his development as an artist: Caterina Bueno, Alberto Balia and Riccardo Tesi.
Maurizio played together with Caterina for about ten years, initially adopting concertina and then going back to guitar, his first love. Caterina's repertoire was so extended, as well as were her knowledge of the whole national tradition and her personality as an artist. Among her collaborators was Alberto Balia, a greatly talented Sardinian guitarist.
Thanks to him Maurizio systematically resumed his guitar studies, getting more familiar with those techniques that would bring him to forge his present guitar style.
The Nurages trio, including Mimmo Epifani (a mandolin player from Puglia who later on collaborated with Eugenio Bennato), was formed at that time. After that group split up, the Maurizio Geri Swingtet came to life, drawing inspiration from the French Gipsy tradition (manouche) in order to revive the work of some Italian composers and offer original compositions. In this respect, it was the only Italian group featured in the prestigious "Django Reinhardt" jazz festival of Samois in June 2002. The group has released two Cds, namely Manouche e dintorni (Felmay, 1997) and A cielo aperto (Visage, 2001).
It was of utmost importance for Geri to meet concertina player Riccardo Tesi, who founded the Banditaliana quartet in 1994. This group, featuring Ettore Bonafé on percussion and vibraphone, and Claudio Carboni on saxophones, urged Geri to undertake a research on timbres and adopt new musical solutions halfway between tradition and experimentation, which is peculiar to Tesi's personality. As a result, several recordings followed: "Un ballo liscio" (Silex, 1997), "Banditaliana (Il Manifesto, 1998), "Thapsos" (Il Manifesto, 2001) and the latest work on Tuscan traditional music, "Acqua, foco e vento", co-arranged by Geri.
Geri has worked with several musicians from different stylistic areas, such as Nick Becattini, Mauro Palmas, Luca Di Volo and Daniele Sepe, playing at numerous festivals all over Europe. His guitar style merges elements drawn from the Mediterranean folk tradition with the swing-manouche improvisation.
---

---